Even More Rentals items for your Party
Mr Margarita provides so much more than just margarita machines and mixes. We provide: Tents, Tables, Chairs, Karaoke Machines, Nacho Machines, Kegerators (Beer Refrigerator) and a decorative Palapa Bar. We enjoy bringing the party to you! Just scroll down and see what we can provide. All equipment is discounted to Margarita Machines Customers and is first come first served.
Great Wedding Idea!!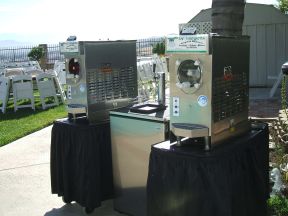 WHAT IS NEEDED
Your name, a few details, and a credit card number are required. All customer information is 100% confidential. Reserve as early as possible to ensure availability. A valid credit card imprint is required for security deposit at time of delivery. Final payment is made the night before your delivery.
CANCELLATION POLICY
Full payment will be requested if Mr Margarita arrives with the equipment and the purchase is cancelled, turned away or undeliverable. Mr Margarita will make every attempt to be on time and make your party a success. We thank you for your business...
Details (click)
Product Information
Rental Price
Margarita Machines

Free Mix, 50 Cups & Straws, Salt Rimmer, Delivery and cleaning.
Arrives on it own professionally Skirted Cart, by professional employees.
Great for backyard parties, social events, themed parties, weddings, office parties, employee appreciation events.
Simply the best, Allow Mr. Margarita to bring the party to you!!!!

$160.00
Margarita & Tropical Drink Mix

10 Flavors Not just Margaritas, check out the tropical drinks Recipes, click on mixes and scroll down.

$20.00
Soft Serve Ice Cream/Frozen Yogurt Machine

Commercial Grade Stainless Steel With Fast Freeze Times
Can dispense Vanilla or Chocolate Soft Serve product or try the Frozen Yogurts.
Arrives on its own professionally-skirted cart along with cones or cups
Indoor or Outdoor Use - Great for kids parties, weddings, corporate events and more!

$275.00
Kegerator

Platinum Sides, Stainless Steel Top, Adjustable Thermostat, Accepts ½-Barrel/Full-Size (15.5 gal.), ¼-Barrel/Pony (7.75 gal.) or Mini Kegs, 3 Prong Plug / Electrical: 115 V/60 Hz
Height: 47

$100.00
Ortega Nacho Machine (Commercial Grade)

Serve two cheese sauces or one cheese sauce and one chili-style.
Offering 6 pounds of Cheese and 6 pounds of Chili with a Dual Star Amingo Dispensing Machine for only $100.00, with the rental of a Margarita Machine.
Fast, Popular and Easy!!! Sit back and allow your guests to serve themselves. No mess or burned cheese.
Great for any parties! Child or Adult

$100.00
Ortega Nacho Cheese and Chili

Six pound bags of Cheese and Chili with containers and drip spots disposable.
Very popular item... One Free 6 pound bag of Chili and Cheese with rental of Nacho Machine.
Each additional Bag $20.00

$20.00
8'x12' Black Speed Shelters

Black Shelters Only
Backyard Parties & BBQ's, Sporting events, Picnics and Parties
Pricing only with the rental of Margarita Machines. The rentals below can be delivered when we drop off your Margarita Machine. Our prices are competitive, everything is clean and well maintained and you just can't beat the convenience!

$35.00
10'x10' Blue Tent

Picnics, Parties, Sporting Events, Backyard BBQ's, and More
The rentals below can be delivered when we drop off your Margarita Machine. Our prices are competitive, everything is clean and well maintained and you just can't beat the convenience!
Low price only with Margarita Machine Rental

$30.00
Contact Information for Our Mr. Margarita Locations